There are only two things certain in life: death and that new Call of Duty games will keep getting published annually. However, what is so specific about this year's installments is that this time Activision has taken a radically new approach to this whole situation.
Besides launching a completely new installment to the CoD series, Activision is also introducing an upgraded version of the first ever Modern Warfare – the best CoD game ever. So, let's take a look at what is Infinite Warfare and how visually improved Modern Warfare is.
Infinite Warfare
For a while now, there were speculations about CoD taking a swing towards science fiction. The long wait for the aliens to finally replace Nazis, Japanese, Russians and Terrorists has finally been brought to an end. From the trailers that were released so far we can conclude that the  Infinite Warfare looks just like a major title installment should, but how the fans are going to react to the change of genre remains to be seen. Some even speculate that this was the primary reason why Modern Warfare reboot was announced to be released the same year. All in all, whether or not these accusations have any truth to them remains to be seen.
Not So Linear Warfare
Another curious thing about Infinite Warfare is that it may not be as linear as some might have expected. Even though the main campaign is going to be quite straightforward (like in any other FPS) there will be a multitude of side quests that you can engage in at will. These quests will contribute both to your gear and to the overall story. This might also add a lot of gameplay time as well as some replayability value to the game.
Was the Reboot Actually Needed?
When we are talking about reboots, what most people hope for is that their favorite 1980s or 1990s game will be rebooted. Because of this, to them, it may seem absurd that one would decide to do a 2007 game's reboot. Furthermore, CoD:MW had quite impressive visuals at its release and it hasn't aged that bad. So the question is – why? Well, the answer is – why not. According to fans and critics alike, Modern Warfare is the best Call of Duty game ever. Activision already has the resources and a chance to make this reboot happen, so why would they miss out on the opportunity to rejoice their most die-hard fans and make some profit along the way.
Modern Warfare Is the Wildcard
Some people may be skeptical about players wanting to buy the same old game over and over again. On the other hand, there are those who prophesize that this game is going to be the greatest revelation of this gaming season. When you come to think about it, it is quite logical/ there is logic behind this. There are thousands of FPS with aliens out there, but this was never what Call of Duty trademark was about. Now, because you won't be able to buy Modern Warfare as a standalone and it will only go alongside Infinite Warfare. This way, each CoD player will be able to get the best of both worlds.
Several Words of Criticism
Even though this might be the most popular FPS franchise in the entire gaming industry, this doesn't mean everyone is a fan. On the contrary, some see Activision's each year release as nothing more than trying to earn as much money as they can off of CoD while they still can. Some even complain that when you take a good look at the games, you notice that essentially nothing changes year in and out.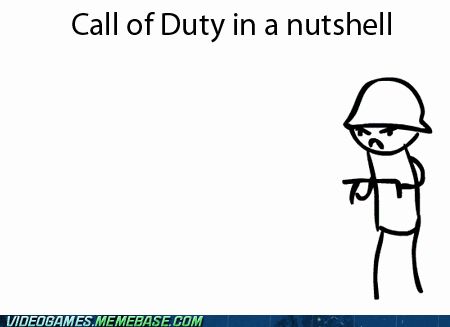 The remastering of the Modern Warfare reboot seems as nothing more but confirmation of this theory. As one of the top-rated 9GAG comments on this topic stated: "So, people complain about CoD being always the same. Turns out they want it to be even more same."
All in all, CoD fans have much reason to rejoice in the next period. Even though Infinite Warfare seems quite promising, it is still the reboot that we are all monitoring closely. Namely, everyone knows that Modern Warfare is one of the most successful (and most beloved) installments of the franchise, so it has the potential to play a strong nostalgia card amongst the fans. Regardless of whether you are a CoD player or not, one thing is undeniable – 2016 is going to be yet another great year for both Activision and Call of Duty in general.